Sky Carver
"In Sky Carver, Dean Whitlock gives us a unique world of his own creation – a true world, deeply perceived and fully realized. Magic runs throughout the adventure, along with suspense, terror, and poignancy. And one of fantasy's most marvelous birds (of sorts). As Carver, the young artist, begins his journey upriver, we can only wish for other journeys to come." –Lloyd Alexander
---
Sky Carver is now available as an ebook for Kindle, iBooks,  Nook, and Kobo.
Sky Carver had its genesis in a fairy tale that I made up on the spot for my son and one of his friends during a quiet moment one summer's day. It took several years and a three-week, 370-mile canoe trip down the Connecticut River before I was ready to write the full story, and by then it had really grown. The original fairy tale is essentially Chapter 3 of the book. (Click here to download chapter 3 so you can read it off line.)
Here's a summary of the whole book, from the jacket flap:
Thomas Painter is the son of a genius artist and a seer. His parents left him to journey downriver when he was only three, but they never returned. Now 14 and apprenticed to his uncle, William Painter, he has none of his father's abilities. His talent is woodcarving, and he has secretly given himself the name Carver. But Carver is not permitted to follow that path; instead, he is trapped in his father's shadow, in a society where your name describes your life. Then a magic wand, dropped by a raven who is really a bemagicked girl, falls into Carver's hands, revealing a raw magic talent and sending him down a new and unexpected path.
As Carver and Raven descend the reaches of the river in search of a mage who can train him to use the wand, and change her back to human form, they enter increasingly mechanical worlds. They befriend Fireboy, who helps them escape on his steamboat from a cruel baron. They become outcasts in a city of filthy canals and spewing workhouses, where mages are hunted by the guarda and magic refuses to work. Finally, lured by one of his father's paintings, they arrive at the magic apparatus of the great mage Krimm. There Carver must confront the images of his missing parents and choose the best path for his talents.
Teachers, read "Sky Carver in the Classroom," a post by a K-8 reading teacher.
Sky Carver is available online (and locally at the Norwich Bookstore and Star Cat Books in Bradford). Contact me directly to get a signed, personalized copy of the gorgeous hardcover, with cover art by award-winning artist Trina Schart Hyman.
The map of Carver's world was drawn by Sally Duston.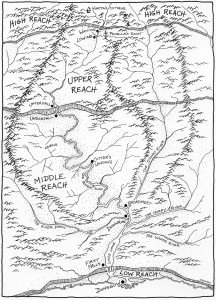 Check out the other books in the Carver's World series: Raven and Fireboy, both with cover art from Maurizio Manzieri, the same talented artist who produced the fabulous covers for The Man Who Loved Kites and Iridescence. (See the gorgeous triptych of all three Carver's World covers here.)